While some martial arts are from Japan, others were created long ago and were even new in Japan at some point. Some martial arts are really old and have survived centuries of turbulence and change, being a branch, adapting to the whims of the wind.
Karate is an old martial art that dates back to the 14th century, on the Ryukyu Islands, of which Okinawa is the most popular one. Okinawa is nowadays known as the home of karate and it rightfully is so.
To answer the question, what is karate, let us look at the history of karate.
The Beginnings of Karate – The Ryukyu Kingdom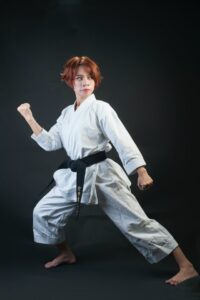 Like most martial arts in the east, they came and were inspired in some shape or form from ancient Chinese martial arts. Karate is no exception and it was introduced to the Ryukyu Kingdom through massive emigration, starting from 1392 and until 1602. Many families moved from China to the Ryukyu islands and brought their own traditions and teaching with them.
During this period, there were plenty of unarmed combat styles invented, but karate was the one everybody practiced, with their own katas and styles. Karate also has moves used from chinese kung fu, various forms of kung fu, which was developed later, in the 16th century.
It is notable that karate stayed on Okinawa until the annexation of the Ryukyu Kingdom in 1879, by Japan, of course.
Karate Becomes Modern – Gichin Funakoshi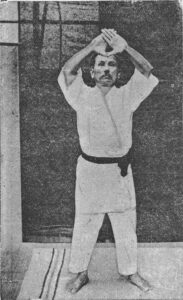 Karate was introduced by Okinawan immigrants in the late 19th century and early 20th, when they moved to the main Japanese islands. Karate started changing and instead of karate jutsu, it became karate do, which implied a road of self betterment and enlightenment.
In 1922, Gichin Funakoshi was invited to give a demonstration of karate at the Japanese Ministry of Education in Tokyo.
Funakoshi is the father of modern karate, the person who invented shotokan karate, the most widespread and popular form of karate. During the second world war, Okinawa was a US military hot zone and a lot of servicemen were introduced to karate and took the martial art back home.
What is Karate?
Karate is a martial art that can be practiced in multiple ways. The first way is budo, or the artistic and self-improving way. The second is self defence and the third, sport or competitive karate. Some forms of karate include weapons training as obligatory.
Karate has three ways of training, kihon, which are the basic fundamentals, kata, which are the moves and forms in isolation, and kumite, which is full contact sparring.
Karate, as a martial art, involves all sorts of moves, from striking and kicking to grappling. Some forms of karate are much more striking oriented, such as Kyokushin.
Karate is a martial art and way of life, which originates in 14th century Okinawa and is now all over the world.